From authors of Alti2 & Lolo altimeters
Comming soon...!
Hibox, a necessity for every electric flyer
... measures, calculates, displays, records, tests and much more...
Technical specifications:
Voltage range: 4,6-40 V
Current range: 50 A, 100 A, 200 A, 400 A* continuous (based on installed probe)
Sample rate : 0,1 - 30 s
Memory capacity: 9 min - 45 hours
Communication interface: RS232 (included)
Main unit dimensions (LxWxH): 85x85x15 mm
Main unit weight: 76 g
Current probe dimensions (LxWxH):
35x25x8 mm without connection cables
Current probe weight: 25 g (100 A with 4 mm Golg connector)
Features:
Simple 4 button user interface
High contrast character LCD
Data logging feature
Voltage measurement
Current measurement
Revolutions measurement (with optional module)
Power and energy calculation (Ah, Wh, W)
Maximum and minimum values
19 independent memory blocks
Servo tester, servo cycling test.
Receiver signal width and amplitude tester
User calibration of probes
RS232 internal interface - included
Sophisticated SW for data analysis and printing - included
New firmware updatable from PC
It is not only an universal powermeter but also provides the functionality of a servo tester. Like this is not enough, one can also test the receiver impuls width and amplitude, a very useful feature in the world full of different radio control equipment manufacturers.
HiBox device consists of 2 units. Main unit with a LCD display and external current probe.
Hibox has no internal power source, it is powered by connected drive battery or external battery, where connected drive batery has voltage below 4,6V. Current rating is variable and dependant on the external probe (50A, 100A, 200A). All these current probes are based on Hall sensors, so no additional resistance is introduced in the measurement circuit. HiBox is a bi-directional device, it allows users to monitor both discharge and charge processes. With external clamp sensor Hibox enables to measure as high current as 400A (Fluke i410). With optional module
Hibox enables to measure also revolutions as RPM or as pulse counter.
Up to 7 blades can be set. Measured values are not lost as HiBox is also a data logger. This means, that all values are recorded and saved in the internal memory. Variable sample rate gives user the possibility to measure quick discharge processes with a high sample rate or follow relatively uneventful and slow charge processes up to 45 hours with a low sample rate. Automatic recording feature will save your hand and Hibox will start recording itself when measured current will exceed defined value.


Saved values can be re-called from memory and listed directly on the main unit display (e.g. on the airfield) or through the RS232 interface transferred to PC for the off-line analysis. Included free software package features easy off-line data access, processing, comparison, analysis and ploting.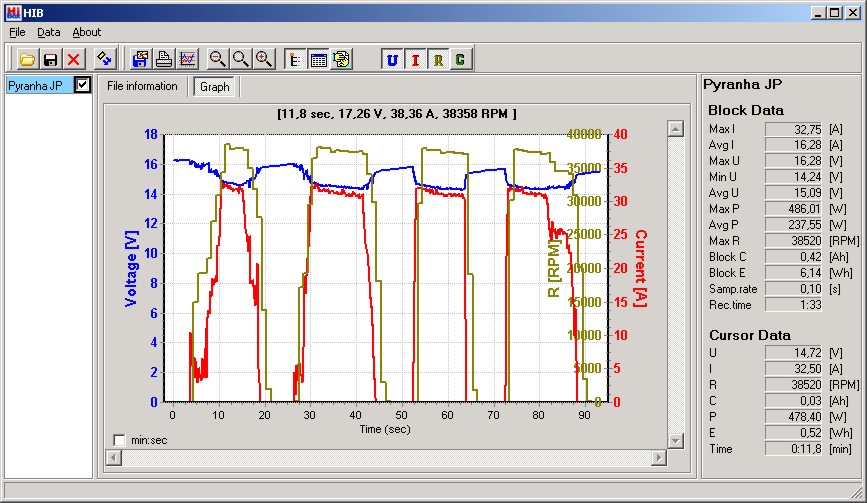 Hibox SW with Data from JP Pyrnha (Wemotec Minifan 480, Mega AC 1615/3, Jeti Hacker 40 - B, 4S LiPol 3200 mAh Kokam)
16 × GP3700, Hacker B50 (Carbon) 5L, Gr. 6,7:1 + 17x18 prop.
© 2006 Made in Czech republic,

User Guide Download (736kB)
For additional info please send email to: